Here's a peek at a stack of books that were just added to the library and put out on display for you to check-out!
Is there a book you wish the library had? Add your request on the discussion thread in this group, or on the Suggest A Book link on the library blog.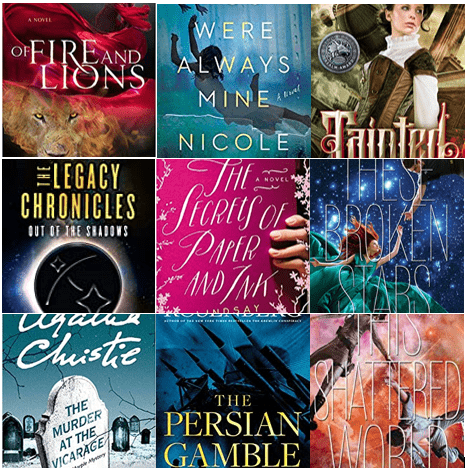 F And

Andrews, Mesu. Of fire and lions : a novel.
Survival. A Hebrew girl first tasted it when she escaped death nearly seventy years ago as the Babylonians ransacked Jerusalem and took their finest as captives. She thought she'd perfected in the many years amongst the Magoi and the idol worshippers, pretending with all the others in King Nebuchadnezzar's court. Now, as Daniel's wife and a septuagenarian matriarch, Belili thinks she's safe and she can live out her days in Babylon without fear-until the night Daniel is escorted to Belshazzar's palace to interpret mysterious handwriting on a wall. The Persian Army invades, and Belili's tightly-wound secrets unfurl with the arrival of the conquering army.

F Baa

Baart, Nicole. You were always mine : a novel.
Jessica Chamberlain can't believe that a tragedy in another state could have anything to do with her. But when her phone rings one quiet morning, her world is shattered. As she tries to pick up the pieces and make sense of what went wrong, Jess begins to realize that a tragic death is just the beginning. Soon she is caught in a web of lies and half-truths — and she's horrified to learn that everything leads back to her seven-year-old adopted son, Gabriel.

F Bus

Busse, Morgan L. Tainted.
Kat Bloodmayne is one of the first women chosen to attend the Tower Academy of Sciences. But she carries a secret: she can twist the natural laws of life. She has no idea where this ability came from, only that every time she loses control and unleashes this power, it kills a part of her soul. If she doesn't find a cure soon, her soul will die and she will become something else entirely. After a devastating personal loss, Stephen Grey leaves the World City Police Force to become a bounty hunter. He believes in justice and will stop at nothing to ensure criminals are caught and locked up. However, when Kat Bloodmayne shows up in his office seeking his help, his world is turned upside down. Together they search World City and beyond for a doctor who can cure Kat. But what they discover on the way goes beyond science and into the dark sphere of magic.

F Chr

Christie, Agatha. Murder at the vicarage.
Miss Jane Marple, a deceptively demure spinster, investigates when an unpopular magistrate and church warden is discovered shot through the head.

F Har

Harrel, Lindsay. The secrets of paper and ink.
A year after the death of her abusive fiance, domestic violence counselor Sophia Barrett finds returning to work too painful. She escapes to Cornwall, England — a place she's learned to love through the words of her favorite author–and finds a place to stay with the requirement that she help out in the bookstore underneath the room she's renting. Given her love of all things literary, it seems like the perfect place to find peace. Ginny Rose is an American living in Cornwall, sure that if she saves the bookstore she co-owns with her husband then she can save her marriage as well. Fighting to keep the first place she feels like she belongs, she brainstorms with her brother-in-law, William, and Sophia to try to keep the charming bookstore afloat. More than 150 years before, governess Emily Fairfax knew two things for certain: she wanted to be a published author, and she was in love with her childhood best friend. But he was a wealthy heir and well out of her league. Sophia discovers Emily's journals, and she and William embark on a mission to find out more about this mysterious and determined woman, all the while getting closer to each other as they get closer to the truth. The lives of the three women intertwine as each learns the power she has over the story of her life.

F Kau

Kaufman, Amie. Their fractured light.
Gideon Marchant is an underworld hacker known as the Knave of Hearts, ready to climb and abseil his way past the best security measures on the planet to expose LRI's atrocities. Sofia Quinn, charming con artist, can work her way into any stronghold without missing a beat. When a foiled attempt to infiltrate LRI Headquarters forces them into a fragile alliance, it's impossible to know who's playing whom — and whether they can ever learn to trust each other. With their lives, loves, and loyalties at stake, only by joining forces with the Icarus survivors and Avon's protectors do they stand a chance of taking down the most powerful corporation in the galaxy — before LRI's secrets destroy them all.

F Kau

Kaufman, Amie. These broken stars.
Two star-crossed lovers must fight for survival when they crash land on a seemingly uninhabited planet. It's a night like any other on board the Icarus. Then, catastrophe strikes: the massive luxury spaceliner is yanked out of hyperspace and plummets into the nearest planet. Lilac LaRoux and Tarver Merendsen survive. And they seem to be alone. Lilac is the daughter of the richest man in the universe. Tarver comes from nothing, a young war hero who learned long ago that girls like Lilac are more trouble than they're worth. But with only each other to rely on, Lilac and Tarver must work together, making a tortuous journey across the eerie, deserted terrain to seek help. Then, against all odds, Lilac and Tarver find a strange blessing in the tragedy that has thrown them into each other's arms. Without the hope of a future together in their own world, they begin to wonder-would they be better off staying here forever? Everything changes when they uncover the truth behind the chilling whispers that haunt their every step. Lilac and Tarver may find a way off this planet. But they won't be the same people who landed on it.

F Kau

Kaufman, Amie, author. This shattered world.
Flynn, leader of the rebellion on Avon, captures Jubilee "Lee" Chase, captain of the forces sent to crush the terraformed planet's rebellious colonists, but later saves her and the two, caught between sides in a senseless war, flee together.

F Lor

Lore, Pittacus. Out of the shadows.
Six and Sam Goode used to be part of a covert group that investigated suspicious incidents surrounding these Human Garde. Then they discovered they could no longer trust who they were working for and quit. But they'll still do whatever it takes to protect these teens. The Legacy Chronicles companion series follows them on this mission, and this book collects the next three novellas — in Legacy Chronicles #4: Chasing Ghosts, Six and Sam try to track down a former charge who slipped through their fingers and who may now have become much more foe than friend. In Legacy Chronicles #5: Raising Monsters, the couple must find a way to escape from an old enemy they believed was long buried in their past. In Legacy Chronicles #6: Killing Giants, a deadly master plan is finally revealed, and it'll be up to Six, Sam, and their companions to put an end to it before it's too late.

F Ros

Rosenberg, Joel C. The Persian gamble.
Shot out of the air in enemy territory in the middle of the greatest international crisis since the end of the Cold War, former U.S. Secret Service agent Marcus Ryker finds himself facing an impossible task. Not only does he have to somehow elude detection and capture by Russian special forces, but he must convince his own government to grant safe harbor to the one man responsible for the global mayhem–Russian double agent and assassin Oleg Kraskin. While frantically negotiating with his contacts in the White House, Marcus learns that the unstable North Korean regime plans to use the international chaos as a smokescreen to sell nuclear weapons to Iran. With the fate of the entire free world on the line, Marcus makes a deal with the U.S. government–he will go back to work as an international operative and track down the WMDs before they end up in the hands of those with the determination and the means to use them. Marcus and Oleg worked together once before to avert a world war. Can they now find a way to stop world destruction?.