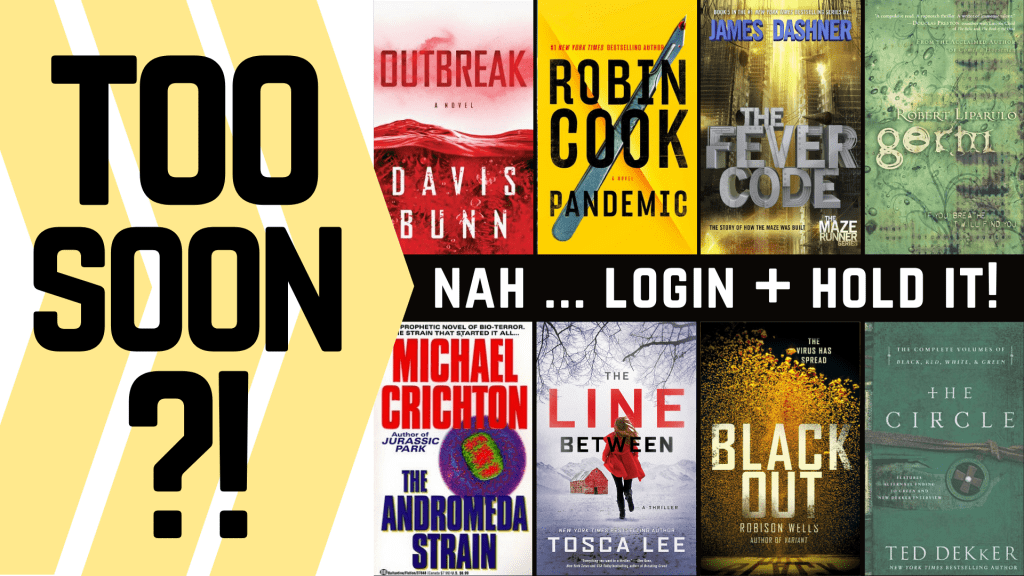 Too soon?! Nah…
See something that looks good? Login + Hold It! Ms. Penner will check it out for you and send you a Schoology message once your library books are ready for pick-up at the Grab + Go library table in the front entry of the school.
Bunn, T. Davis. Outbreak.
The waters off the West African coast are a menacing red, full of algae thick enough to stand on in places. In nearby villages, mysterious deaths start to occur — and the panic mounts. But before an alarm can be sounded, the sea currents shift, the algae vanishes, and the deaths stop. Everyone is relieved when things return to normal, and local government officials are happy to sweep the publicity nightmare under a rug. An American biological researcher, Avery Madison, is dispatched by his employer to piece together exactly what happened, having long feared an ecological disaster just like this could occur. He's had little evidence to go on before now, and what he finds in West Africa is rapidly disappearing. But Avery knows the danger hasn't disappeared — it has just moved on. When parts of the Caribbean start turning a familiar red right before hurricane season kicks into high gear, the implications are clear. If Avery and his colleagues can't convince the world of what's about to happen, toxic destruction could be loosed on American soil. Will their efforts prove too late?.
Cook, Robin. Pandemic.
When multiple people collapse and die with a transplanted heart and unusual DNA matches, medical examiner Jack at first fears a flu epidemic, until he digs deeper. His investigation leads to a company that is experimenting with gene-editing biotechnology. Jack is drawn into the underground organ transplant market with danger at every corner.
Crichton, Michael. The Andromeda strain. 
Four American scientists, chosen in advance for their experimental achievements in the fields of clinical microbiology, epidemiology, pathology, and electrolyte chemistry, are summoned under conditions of total news blackout and utmost urgency to Wildfire's secret laboratory five stories beneath the Nevada desert. There — surrounded by banks of the most sophisticated computer-assisted equipment, and sealed off from the outside world except for a telecommunications link with the national security apparatus — they work against the threat of a worldwide epidemic to find an antidote to the unknown microorganism that has inexplicably killed all but two inhabitants (an elderly derelict and an infant) of the tiny Arizona town where the satellite was retrieved. Step by step they begin to unravel the puzzle of the Andromeda Strain, until, terrifyingly, their microbacterial "adversary" ruptures the hypersterile seal of the laboratory and their already desperate search for a biomedical answer becomes a split-second race against an atomic deadline.
Dashner, James. The fever code.
Once there was a world's end. The forests burned, the lakes and rivers dried up, and the oceans swelled. Then came a plague, and fever spread across the globe. Families died, violence reigned, and man killed man. Next came WICKED, who were looking for an answer. And then they found the perfect boy. The boy's name was Thomas, and Thomas built a maze. Now there are secrets. There are lies. And there are loyalties history could never have foreseen. This is the story of that boy, Thomas, and how he built a maze that only he could tear down.
Dekker, Ted. The circle series.
Black — Red — White — Green (with new alternate ending) — Bonus: original ending of Green — An interview with Ted Dekker. Collects all four novels in Ted Dekker's Circle series, which follows the adventures of Thomas Hunter, who after suffering a head injury, falls asleep and each time he wakes up finds himself in a new reality and tries to save the world from a deadly virus.
Lee, Tosca Moon. The line between : a thriller.
When Wynter Roth is turned out of New Earth, a self-contained doomsday cult on the American prairie, she emerges into a world poised on the brink of madness as a mysterious outbreak of rapid early onset dementia spreads across the nation. As Wynter struggles to start over in a world she's been taught to regard as evil, she finds herself face-to-face with the apocalypse she's feared all her life — until the night her sister shows up at her doorstep with a set of medical samples. That night, Wynter learns there's something far more sinister at play and that these samples are key to understanding the disease. Now, as the power grid fails and the nation descends into chaos, Wynter must find a way to get the samples to a lab in Colorado. Uncertain who to trust, she takes up with former military man Chase Miller, who has his own reasons for wanting to get close to the samples in her possession, and to Wynter herself.
Liparulo, Robert. Germ. 
The germ – an advanced form of the Ebola virus – has been genetically engineered to infect only those people whose DNA matches the codes embedded within it. Those whose DNA is not a match simply catch a cold. But those who are a match experience a far worse fate. Within days, their internal organs liquify. The release of the virus will usher in a new era of power where countries are left without defense.
Wells, Robison E. Blackout.
A mysterious virus is spreading through America, infecting teenagers with incredible powers — and a group of four teens are about to find their lives intertwined in a web of danger and catastrophic destruction.