Connect with MEI Secondary Library online!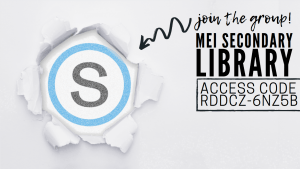 Have you joined the MEI Secondary Library Schoology Group for students yet? Simply login and go to the groups tab, and join the group with the access code: RDDCZ-6NZ5B
Access and search the MEI Library catalog and online databases from school or from home using any web browser. Login to your own personal account; to place holds, renew the books you have out to avoid overdue fines, and see what you currently have checked out. Take a peek at the my MEI library tutorial for step-by-step directions on how to login to your account.
Check out the Public Resource Lists for the newest novels added to the library, new books perfect for your research projects, and a list of our graphic novels and comics.
To sign out items at the library, students will be asked to show their ID card or state their student number. Students are permitted to check out a maximum of 8 books at a time for 3 week periods. If materials are needed longer, they can be renewed up to 3 times. Overdue fines are .25¢ a day per book. If an item has not been returned for 90 days, it is considered lost and a replacement fee will be issued.
Current issues of magazines and newspapers can be read while in the library – back issues are available for borrowing.
Textbooks are checked out at the beginning of each semester at the library on Textbook Day, and as a class throughout the semester as needed. All textbooks are due on the last day of Final Assessment Week. Textbooks handed in after the due date are considered lost and a fee for the replacement cost will be added to your account.
Fines are assessed based on damage to the library books or textbooks, such as: writing, stains, and torn covers. Fines are $2-$5 depending on the damage. If the item is unusable you will be charged the cost to replace the book.
Take a virtual tour of the MEI Secondary Library!
Still have questions?
Save
Save
Save