Definitions of PowerPoint on the Web:
Microsoft PowerPoint is a presentation program by Microsoft. It is part of the Microsoft Office suite, and runs on Microsoft Windows and Apple's Mac OS X operating system.
en.wikipedia.org/wiki/Powerpoint
Microsoft PowerPoint is a type of presentation software that allows you to create slides, handouts, notes, and outlines.
www.gslis.utexas.edu/~vlibrary/glossary/index.html
Microsoft PowerPoint is a Microsoft product for producing slide shows that can incorporate text, graphics, video, animations, etc. LCD / DLP projectors are known to many people as "PowerPoint projectors."
www.dynamx.com/projector-dictionary.html
What can I use Powerpoint for?
http://www.thinkoutsidetheslide.com/articles/whenusepowerpoint.htm
o   In the Classroom.
To organize your picture files into "photo albums".
http://presentationsoft.about.com/od/powerpoint101/ss/photo_album.htm
Create Handouts and Outlines for your material.
Make Flashcards/Cue Cards out of the slides.
Make bookmarks or magnets to print at your local photo printer.
http://thecompassionatelibrarian.blogspot.com/search/label/Bookmark%20Design
Email slideshows for advertisements or social agenda.
Save slides as PNG/JPG to insert into a Windows Movie Maker project.
How do I make my own PowerPoint Presentation?
Here are some basic steps to start your own presentation:
1.       File/Help – Use the File tab at the top left and select "help" at any time.  Microsoft has provided some really great help if you forget a step, (or if you're like me, you were kind of used to the old version and now have to find where the tools are re-organized).
2.       Open new slideshow
So, from the HOME tab, choose "new slide".  The system will automatically give you a Title page template.  Fill in your Title and subtitle.
3.       To insert more slides, just click on "new slide" again or click on the little down arrow on the new slide button.  That will give you more templates to use or you can even just choose a blank page.
4.       For added effect, you can rotate your text boxes by "activating" the box (just click on it) and there will be a little green button and when you point your mouse over it, a circular arrow will appear over it.  Click on it to move your text box in any direction.
5.       Create a transition for your slide by clicking on the "Transitions" button.  Choose a suitable option for your slide.  You can choose the same for each, or to create interest, make a different transition for each slide.
6.       Insert some clip art by clicking on the "Insert" tab.  Choose "clip art".  If it is the first time you are using the system and you want it to find more clip art, make sure the box for that is selected.  Enter a search term for the kind of clip art you are searching for and when one comes up that you like, double click on it to insert it into your slide.
7.       To add animation, click on the item you want animated (can be text or pictures).  Open the "Animations" tab.
8.       Choose "Animation pane" to change the order in which your clip art and text are animated.  In the animation pane, click and drag your listings to change the order.
9.       Use the "View" Tab to use the "Slide sorter".  Click and drag to rearrange the order of your slides.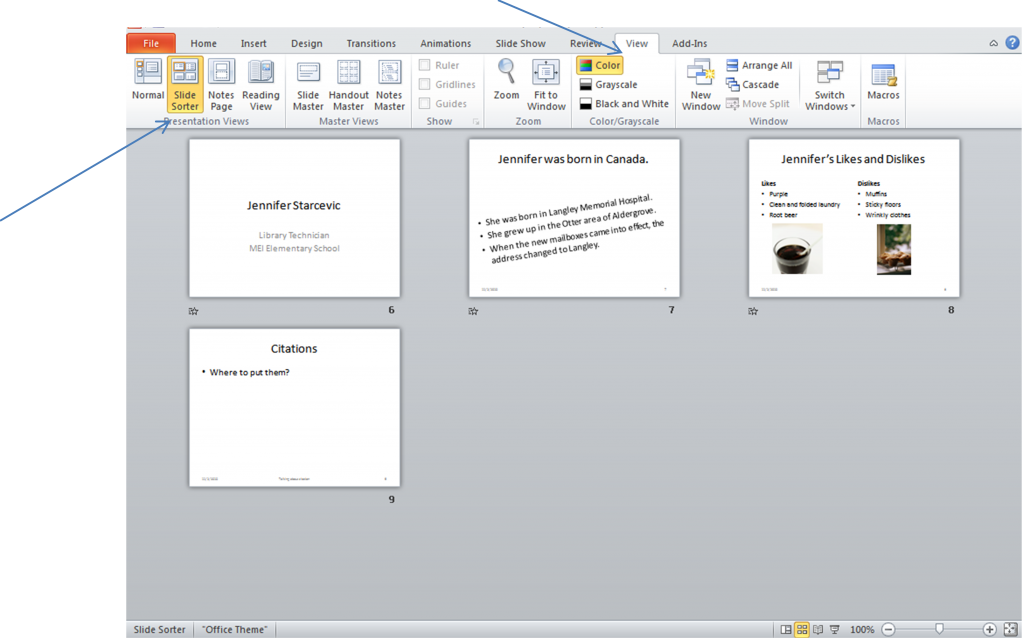 10.   To see your slideshow, go to the "Slideshow" tab and choose from what point you want to see the show.  In this case, I want it to show me from the start.  Choose the "From beginning" button.  Use your escape key to stop (this key is usually the key at the topmost left of your keyboard).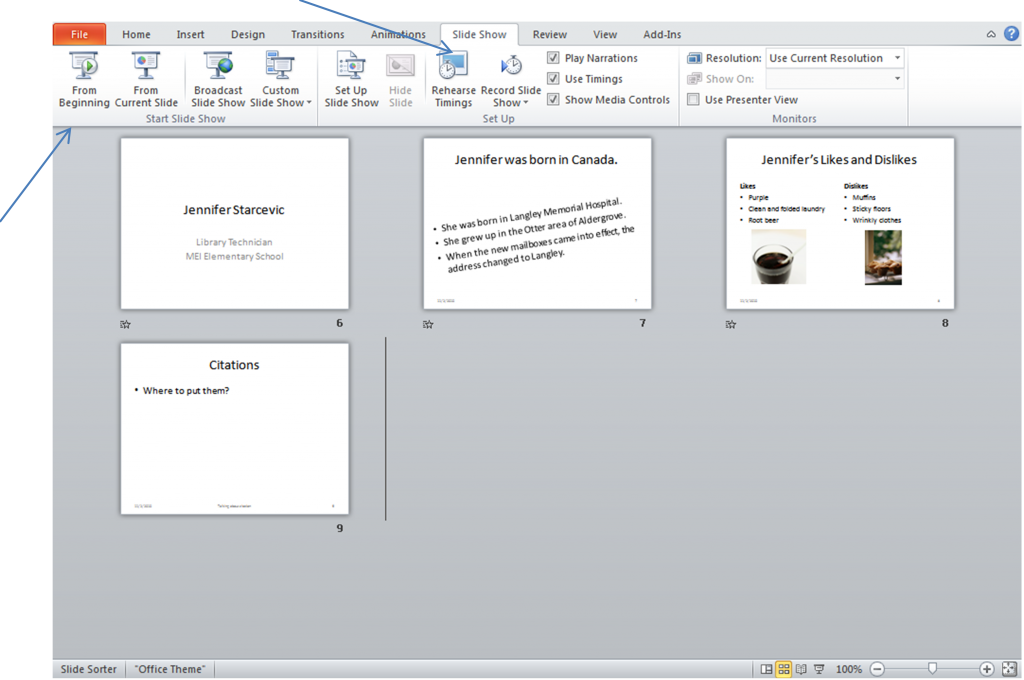 11.   To print the notes from your slideshow for your students, choose the "File" tab and select "Print".  Look for where you can enter how many slides you want printed per page.  Choose 3 slides to print for a handout.
Citations in PowerPoint:
12.   To add in citations, choose the "Insert" tab and select the button that says "Header and footer".  Enter your citation in the "footer" field.
Created September 2010