What happens when you can't dream anymore? Is there even a cure? Cherie Dimaline's The Marrow Thieves tells us of a world where this has happened.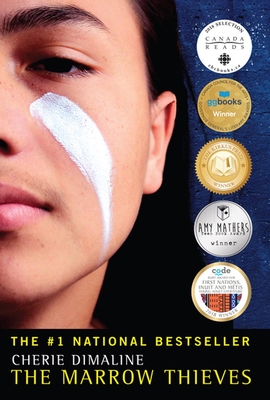 "…the world has been ravaged by global warming. Cities have crumbled from the coastlines, "breaking off like crust," and hurricanes, earthquakes, and tsunamis have wiped out entire communities. Millions of people have lost their lives, and those who remain have endured trauma that has led to their inability to dream — with the exception of North America's Indigenous peoples, who carry dreams in webs woven into their bone marrow.
Set against a chaotic backdrop of torrential rain, food scarcity, and raccoons the size of huskies, The Marrow Thieves centres on Frenchie, a teenager on the run from government "recruiters." Employed by the government of Canada's Department of Oneirology, the recruiters forcibly take Inuit, Métis, and First Nations peoples to marrow-harvesting factories modelled after residential schools. Indigenous leaders have attempted to negotiate with governors in the capital, but working with the government has failed."
– from the Quill and Quire review
Winner of the Governor General's Literary Award, the Kirkus Prize, the White Pine Award, a Globe and Mail Best Book and a contender in the CBC Canada Reads 2018, it appears to be a dystopian story set in Canada's future with a message that warns us of what might come, but there are underlying themes of social justice with an echo of a sordid part of Canada's history. If you are interested survival stories, Truth and Reconciliation, dystopian futures or all of the above, make sure you check out Cherie Dimaline's The Marrow Thieves, found on our Fiction shelves under F Dim.
Check out the book trailer below!