Eating salad has never been so zesty with Terry Hope Romero's Salad Samurai. Learn how to make your salads snazzy and vibrant with her cookbook that has options for those who are vegan, gluten-free or just want to discover the joys of eating healthy!
"Dig in to: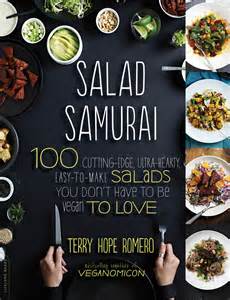 Spring Herb Salad with Maple Orange Tempeh
Deviled Kale Caesar Salad
Seared Garlic Chickpeas, Spinach, and Farro
Seitan Steak Salad with Green Peppercorn Dressing
Herbed Pea Ricotta, Tomatoes, and Basil
Mushroom, Barley, and Brussels Harvest Bowl
Tempeh Rubenesque Salad
Pomegranate Quinoa Holiday Tabouli
Seitan Bacon Wedge Salad
and many more!"
Find this book in our new cookbook display at the library!