Grey days are perfect for curling up somewhere comfy with a hot drink and a good book!
Why not CHECK OUT one of these recommended reads? Go HERE to Login + Hold It!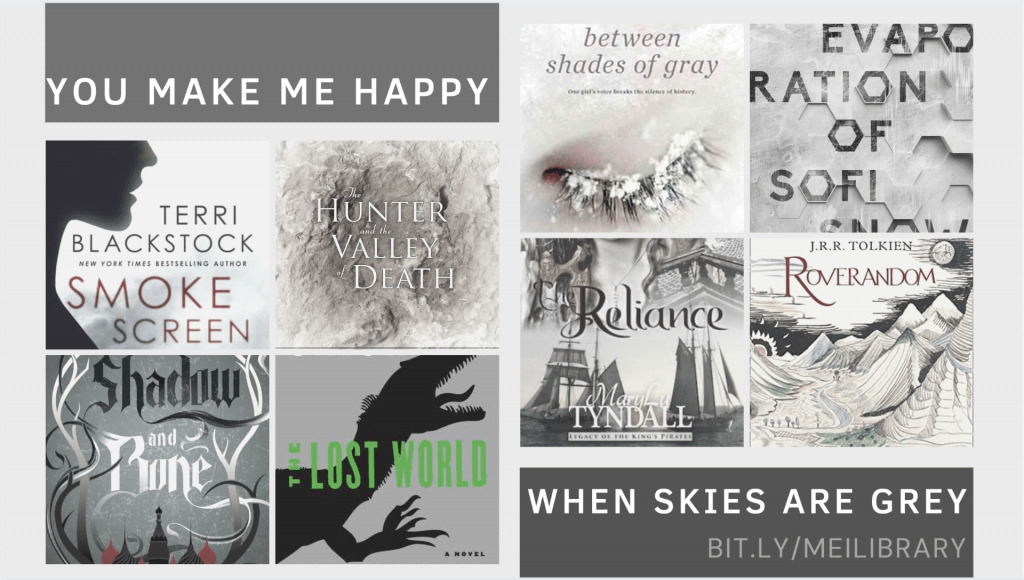 Bardugo, Leigh. Shadow and bone.
Orphaned by the Border Wars, Alina Starkov is taken from obscurity and her only friend, Mal, to become the protegé of the mysterious Darkling, who trains her to join the magical elite in the belief that she is the Sun Summoner, who can destroy the monsters of the Fold.
Blackstock, Terri. Smoke screen.
Nate Beckett has spent his life fighting wildfires instead of the lies and rumors that drove him from his Colorado hometown. His mother begs him to come to Carlisle now that his father has been released from prison, but it isn't until he's sidelined by an injury that he's forced to return and face his past. But that means facing Brenna too. Fourteen years ago, Nate was in love with the preacher's daughter. When Pastor Strickland discovered Brenna had defied him to sneak out with Nate, the fight between Strickland and Nate's drunken dad was loud — and very public. Strickland was found murdered later that night, and everyone accused Roy Beckett. When the church burned down, people assumed it was Nate getting even for his father's conviction. He let the rumors fly and left Carlisle without looking back.
Crichton, Michael. The lost world.
Jurassic Park, the primordial zoo, has been closed and the dinosaurs it once housed have been destroyed, but six years later there are rumors that some of them may have survived.
McPherson, Brennan S. The hunter and the Valley of Death : a parable of surrender – Psalm 23.
A man wakes up in the Valley of Death and realizes he's given up everything to attempt to kill Death so that he can bring his love back to life — but when he fails, who will be there to rescue him?.
Sepetys, Ruta. Between shades of gray.
A knock comes at the door in the dead of night, and Lina's life changes in an instant. With her young brother and mother, she is hauled away by the Soviet secret police from her home in Lithuania and thrown into a cattle car en route to Siberia. Separated from her father, Lina secretly passes along clues in the form of drawings, hoping they will reach his prison camp. But will her letters, or her courage, be enough to reunite her family? Will they be enough to keep her alive?.
Tolkien, J. R. R. (John Ronald Reuel). Roverandom.
While on holiday in 1925, four-year-old Michael Tolkien lost his beloved toy dog on the beach at Filey in Yorkshire. To console him, his father, J.R.R.Tolkien, improvised a story about Rover, a real dog who is magically transformed into a toy and is forced to seek out the wizard who wronged him in order to be returned to normal. This charming tale, peopled by a sand-sorcerer and a terrible dragon, by the king of the sea and the Man-in-the-Moon.
Tyndall, MaryLu. The reliance.
Tormented by his wife's apparent demise, Edmund Merrick sails away to drown his sorrows-only to find himself trapped in the dark world of a demented Frenchman. When his mind clears from its rum-induced haze, will Edmund find the will to escape? Seemingly abandoned by her husband, Charlisse is thrown into the clutches of the vengeful pirate Kent. Will she be swept away by the undertow of treachery and despair? Can Edmund and Charlisse steer their way to the faith-filled haven they so desperately seek, or will they ultimately lose their love and lives to the sea?.
Weber, Mary. The evaporation of Sofi Snow.
Seventeen-year-old Sofi battles behind the scenes of Earth's Fantasy Fighting arena helping her younger brother, Shilo, and when a bomb destroys part of the arena, she dreams Shilo survives on the forbidden ice-planet.