Looking for something to read?
Can't remember what that book was called or who wrote it?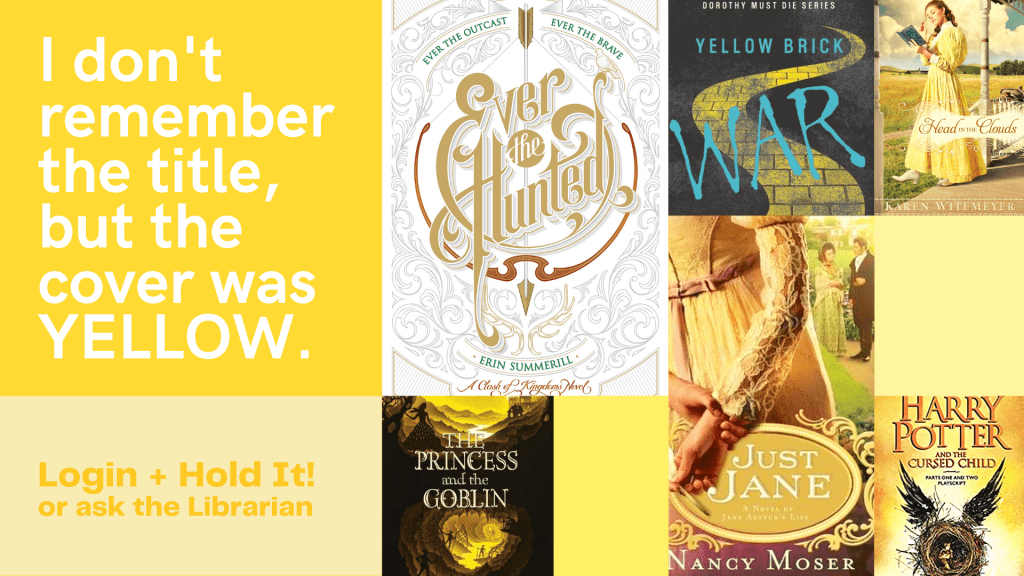 If you remember that the cover was YELLOW, or you're just looking for a recommendation, check out these novels!
Login + Hold It! Ms. Penner will check it out for you and send you a Schoology message once your library books are ready for pick-up at the Grab + Go library table in the front entry of the school.
F Mac

MacDonald, George. The princess and the goblin.
Princess Irene has discovered a secret winding stairway in the castle. It leads to a bewildering labyrinth of unknown passages with closed doors — and a further stairway. What lies at the top? Meanwhile, the miner's son Curdie overhears a fiendish plot by the goblins that live below the mountain. With the help of Irene's magic ring, can they stop the goblins' terrifying plans in time?.

F Mos

Moser, Nancy. Just Jane : a novel of Jane Austen's life.
Unable to find her own Mr. Darcy, she created him. Jane Austen lives simply in the English countryside with her beloved family, entertaining them with her stories and seeking romance. She never ventures far from her own corner of the world and struggles to find her place in it. Growing up in a clergyman's home gives Jane opportunities to observe human nature at its best–and worst. Vivid and delightful characters pour from her pen — Elizabeth Bennet, Fitzwilliam Darcy, Emma Woodhouse, Fanny Price, John Willoughby…Jane dreams of publishing her stories and sharing them with the world, but she's just Jane from Steventon, isn't she? Will anyone ever read her novels?.

F Pai

Paige, Danielle. Yellow brick war.
My name is Amy Gumm. Tornadoes must have a thing about girls from Kansas, because – just like Dorothy – I got swept away on one, too. I landed in Oz, where Good is Wicked, Wicked is Good, and the Wicked Witches clued me in to my true calling: assassin. The way to stop Dorothy from destroying Oz – and Kansas – is to kill her. And I'm the only one who can do it. But I failed. Others died for my mistakes. Because of me, the portal between the worlds has been opened. And if I don't find a way to close it? Dorothy will make sure I never get to go home again. Now it's up to me to join the Witches, fight for Oz, save Kansas, and stop Dorothy once and for all.

F Row

Harry Potter and the cursed child. : playscript.
As an overworked employee of the Ministry of Magic, a husband, and a father, Harry Potter struggles with a past that refuses to stay where it belongs while his youngest son, Albus, finds the weight of the family legacy difficult to bear.

F Sum

Summerill, Erin. Ever the hunted.
Seventeen year-old Britta Flannery is at ease only in the woods with her dagger and bow. She spends her days tracking criminals alongside her father, a legendary bounty hunter – that is, until her father is murdered. The alleged killer is none other than Cohen Mackay, her father's former apprentice. The only friend she's ever known. The boy she once loved who broke her heart. She must go on a dangerous quest in a world of warring kingdoms, mad kings, and dark magic to find the real killer. But Britta wields more power than she knows. And soon she will learn what has always made her different will make her a force to be reckoned with.

F Wit

Witemeyer, Karen. Head in the clouds. Minneapolis, Minn. : Bethany House, c2010.
Adelaide Proctor is hired by Gideon Westcott to serve as a governess for the child he has been left with, and as Adelaide tries to bring her young student out of her shell, she finds herself falling for Gideon, but their chance at happiness is threatened by a man intent on claiming the child and her inheritance.